Wednesday, April 12, 2006
If you're a person that didn't recieve a message from me. I've basically moved.
I'm now at http://countryfan.wordpress.com
See y'all there! :D
posted by Nickie @ 12:25 am
Sunday, April 09, 2006
I can't believe on how much life sucks sometimes :( We're going to be getting the internet cut off for a month because we got a utility bill through the mail yesterday and it's about $1000. And we have to pay it by Monday. Suck worthy. So in the meantime, we're giving up frivolous things. Since when has the internet been a luxury?! I guess that until we get the connection back at home, I'm going to be bribing people to let me use their computers so I can check email from my rabid fans...ha...I wish. But I know I have about five people online who will wonder where the heck I dissapeared to. So I'm telling you now so I don't get lots of hysterical messages on my tagboard or in my email inbox.
Anyway, less about the negative and more about the positive. Abby's birthday was a success. I pulled it off with about ten minutes to spare. I ran into the house, threw down my bags from the night before (I went to see Ran in Chicago) and ran into the bedroom to get changed. I managed to get all my clothes on and finish my make-up before the doorbell rang :D Talk about cutting it fine...lol. You can see the photos on my Flickr account, gotta love the mess babies make with frosting :p
And tomorrow, we're going to be going to a free day at the Zoo. Yay! Abby gets to see the jeffries (giraffes) in the flesh. I call them jefferies because that's what I used to call them as a kid. I guess old habits die hard :p It's going to be a nice day too, about 55 degrees. Nice, sounds like t-shirt weather to me :D
posted by Nickie @ 1:02 am
Monday, April 03, 2006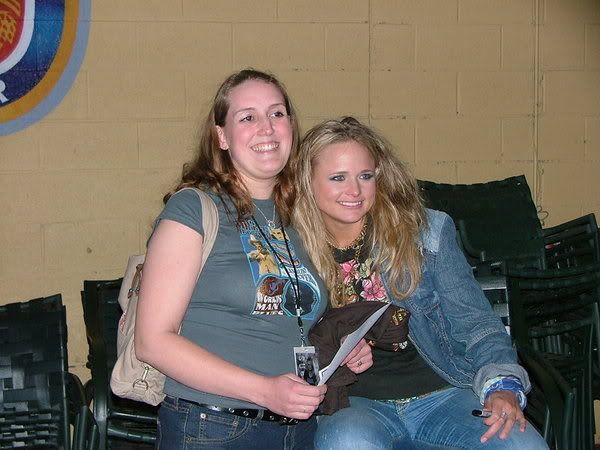 That's one of the photos from when I met Ran. She was awesome. But anyhow...the review.
The day of the trip I was totally nervous as heck. I threw up three times before Chris and Joe rang the doorbell. I leaned off the balcony and shouted down to them to give me a minute...I was still packing my bags.
Finally, got on our way and got all the way to the freeway and coulsn't find my ID. So, we went back to the house, I grabbed my ID from my immigration file box and ran down and jumped back into the car. I'd also grabbed my Ran CD, so we played that a little bit of the way. We stopped at Arby's on the way there because the three of us were so hungry...and we joked around a little bit and it helped to relieve the tention.
We got to Chicago around 3pmish...booked into the hotel and I was mildly surprised on how nice the hotel was for a Days Inn. I've stayed in a lot of hotels in my life (I'm a bit of an avid traveller) and this was pretty nice. The key wouldn't work in the door, so the maid let us in (even though she wasn't supposed to). Joe joked about how the bathroom smelt funny and I guess I just rolled my eyes at him Rolling With Laughter We all got ready and started to walk to Joe.
We started walking and then some teenager told us we were walking in the wrong direction. So we righted ourselves, and then it started to rain more heavily. It took us about 45 minutes to walk down to the bar. All I could think about was the fact that my hair was going to be a mess when we got there and I'd look a fright on my pic with Ran Sad
When we got there, I met Paul and Cheryl and Christie (greyhound) and Ken (tillerman). And some other couple, one of them had a Nextel walkie-talkie phone. Don't know who they were. Me and Christie stood underneath the shelter and talked for a while. She's really nice. So was Ken. He didn't talk much until he started drinking Crying Lauging They finally let us in around 5:15pm and we all sat down and ordered dinner. I definetely recommend the Chicken Sandwich...it was really good. And they sold PBR! So I was a happy gal Smile
When the concert started, they had an opening act on first called John Eddie. They were really good, me and Christie kept on giggling like a couple of school girls. Some of the lyrics were racy Singing Then Ran finally came on, and I had to pinch myself. I honestly thought I was dreaming. It was totally surreal. She was even more gorgeous in the flesh. Then they let these people stand in front of us...and I was kinda annoyed about that...but I made sure that the camera noticed me by screaming a lot and throwing my hands up in the air Rolling With Laughter
Finally, the actual show started and Ran said for us to come and stand up by the stage. I wouldn't go at first, but Joe kept on trying to get me over. So, I eventually went to stand by him. And I think my photos show you I had a good spot Smile Joe kept on grabbing my shoulders and going "Nickie, we're really here! It's Ran, look it's Ran!" Bless ya Joe. you big fanboy Rolling With Laughter The sound wasn't as good up by the stage, but I had a clear shot of Ran for picture-taking and she even sang at me a couple of times. I was just totally in awe...I swore I was dreaming.
When I got to the M&G, I was towards the back of the line, and it was really cold and windy outside on the courtyard. some guy behind me kept on making security jokes, and then it was my turn. Wow....holy cow Ran. I was nervous as all heck, but you made me feel like I was the only person in the world that mattered. You are a fantastic person. She told me how she had the same Merle Haggard t-shirt as me...I was sad because I'd sent her one in the mail, but then she told me it was in a different colour. So, now she has two Merle CMT t-shirts from Walmart Smile
I got back to the hotel and I had to bug the desk guy for some pain killers. My head was hurting a lot from the volume of the music and my ears felt like they were bleeding. Luckily, I felt a lot better after a nights rest. Just wish that my photo with Ran had turned out better. Well, there's always State Fair in August Smile
posted by Nickie @ 11:27 pm
Thursday, March 30, 2006
It's finally here :D I am leaving tomorrow afternoon to see Miranda Lambert, live in concert. And I get to chat with her for a bit afterwards :) So it's going to be really awesome. I'm about to start packing up my stuff, so I can get an early night. I'm not too sure if I'm going to be able to sleep though...I am truly excited as all hell.
I was at Walmart today and I noticed that they have these CMT Country Music Royalty t shirts. Well, my store just had the one...but I think I'm going to check out other stores in the area and see if the one I got is part of a range or something. I couldn't resist this shirt though. It's a Merle Haggard t-shirt, who is Miranda Lambert's favourite country singer. So I'm going to wear it tomorrow night for the concert :D
I just have to remember to pack my fan club pass and my ticket...lol ;)
posted by Nickie @ 10:42 pm